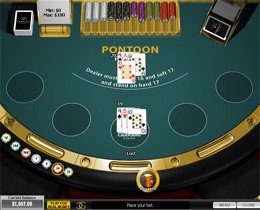 Pontoon is a British version of Blackjack, although the rules and regulations are somewhat different.

The games 21, Blackjack and Pontoon, are either played with a standard deck of cards and the players play against a dealer. For pontoon, a minimum of two players are needed but the maximum number of players is unlimited, however it is best played with 5-8 players. Normally when there are 8 or more people playing this game, two packs of cards are mixed together.

In Pontoon, every card has its own value. The Ace is either 1 or 11 and is left totally to the holder's discretion. Kings, Queens, Jacks and Tens are 10 and the rest of the cards hold their face value. The aim of the game is for the player to hold a set of cards with the sum total of 21. If the total exceeds 21, the hand the player loses. A total of 20 or less than 20 with less than 5 cards will result in the cards being valued according to the value of their points.

Pontoon has a few different rules when compared to the American version. In pontoon, only the aces can be split and this extends to the other pairs of cards. Here, the banker has the option of checking his first card and possibly, doubling the stakes. The pay out is also a lot different in Pontoon. It is possible to pay a single or a treble stake as opposed to only the double.
Play Pontoon at the Following Online Casinos:
Springbok Casino | Silversands | Yebo Casino
Other Blackjack Games to Play:
Atlantic City Blackjack | 21 Duel Blackjack | European Blackjack | Blackjack 3 Hand | Blackjack 5 Hand | Blackjack Scratch Card | 21 Duel Blackjack 3 Hand