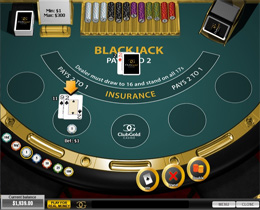 Blackjack 3 Hand is Blackjack with a bit of a twist and is very popular amongst gamblers all over the world.
3 Hands are played from a standard 52 pack of cards and involve plenty of skill and strategy in order for players to be successful and win.
The rules and the aim of the game are the same as normal Blackjack where players need to get a total of 21 without exceeding it.  It is called a Bust if a player gets more than 21, a Hit if a player needs an extra card to get closer to 21.
An Ace counts as 1 or 11 and a King, Queen, Jack and 10 all count as 10. A card will be dealt to all three hands and then one for the dealer. 
Players will then receive a second hand but the dealer will only receive his next card once all the gamblers have played. Gamblers then place bets and play 3 different hand while the dealer may draw up to 16 but has to stand when he gets to 17.
Gamblers can place bets from as little as 1c up to $100 with a maximum bet of $300.
Play Blackjack 3 Hand at the Following Online Casinos:
Other Blackjack Games to Play:
Atlantic City Blackjack | 21 Duel Blackjack | European Blackjack | 21 Duel Blackjack 3 Hand | Blackjack 5 Hand | Blackjack Scratch Card | Pontoon