Win at Blackjack
Some people would say that blackjack is the only casino game in which the player actually has a fair chance against the house.
Here's how you can learn to up your odds of winning.

1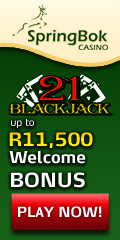 Learn perfect basic strategy. Do you hit a 16 when the dealer shows 10? Forget what anyone has told you, learn a statistically sound strategy, and know the right way to play every hand in your sleep.

2
Know what you are up against. The house gains its advantage when both the player and the dealer busts, then the house wins.

3
Understand what cards benefit the player, and what cards benefit the house. Small numbered cards such as sixes and below, benefit the house.

4
Large cards benefit the player. The dealer is more likely to bust because he doesn't get a choice when to hit, and naturals are more likely.

5
If the player could only bet when there were more higher cards than lower cards, the player would ultimately win. Since this isn't possible, the player bets as much as he can when there are more large cards, and as little as possible when there are more low cards. This is the ultimate key to beating Blackjack.

6
Be aware that in most casinos, a blackjack shoe is played with 6 decks of cards. If the count is high early into the shoe, it is not as important as if it were towards the end of a shoe. The best time to raise your bet would be when the count is high and the cards that are left are low.

7
Playing to win requires intense concentration, sobriety, a lack of emotion, and many hours of practice. You may find that in trying to gain an advantage over the house, takes out all the fun of gambling.

8
Practice with computer simulators especially for card counting practice because they will automatically correct you if you make a mistake.

9
Throw every superstition that you have about blackjack out of the window. They just lead to believe that you can control the uncontrollable. Beating a casino takes a real mathematical advantage, not good luck charms.

10
Know when to quit. If you're constantly having bad hands or have not perfected the technique yet, it's better not to waste your money. Just Follow these three basic tips and you won't go wrong: 1st tip:
Gamble money you can afford to lose. If you need the money, don't gamble.

2nd tip:
Gamble half of what you are willing to risk. This way, if you don't win, you will give yourself a second chance, another day.

3rd tip:
Don't be greedy; if you lose what you have just won, you are greedy
.

Visit Jackpot City Online Casino!
Sportsbetting Articles:
Football - Can Italy Return to Prominence? | Is Kenny Dalgish Still King? | Unlucky Faletau Suffers Bad Break