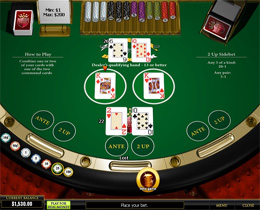 21 Duel Blackjack is a new alternative take on the original Blackjack card game. Along with its quick tempo, 21 Duel Blackjack has an additional feature with an extra side wager and the option of playing more than one hand per game. Two community cards are dealt into the middle for both the player and the dealer which undoubtedly makes the game much more exciting.

The aim of the game is for the player to get as close as possible to 21 in order to beat the dealers cards, but the total may not surpass 21. Aces count as either 1 or 11, number cards as their face value and face cards as 10.

If the players' card total is closer to 21 than the dealers' cards are then the player wins the amount which they originally bet. If the player and the dealer's totals are the same the pot is split and the original bet amount is returned to the player. If the total exceeds 21 then the player 'busts' and they lose their bet.
An added feature of being able to place a side bet is an exciting new part of the game which draws many players to this version of the game, however this only counts for the player's first two cards and the community cards. If players have a pair within this hand, then payout is 3 to 1 and if a player gets three of a kind the payout is 20 to 1.
Play 21 Duel Blackjack at the Following Online Casinos:
Casino.com | William Hill | Omni Casino
Other Blackjack Games to Play:
Atlantic City Blackjack | 21 Duel Blackjack 3 Hand | European Blackjack | Blackjack 3 Hand | Blackjack 5 Hand | Blackjack Scratch Card | Pontoon