European Blackjack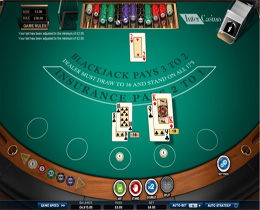 European Blackjack is played with 6 decks of 52 playing cards and is shuffled at the end of each game.
It features the same table limit as Vegas Blackjack making your experience more customized depending on how risky you are feeling.
Once you have downloaded European Blackjack, you will then be able to take a seat at 5 possible tables, all of which will have different ranges of stake limits. 
These limits start from as little as $2 up to $50 with maximum limits of $500 up to $5,000 and loads of variety in between.
The rules of this game are similar to Vegas and Atlantic rules with slight differences:
The dealer will only be dealt his second card once you have made a decision on all your hands.
The Dealer will stand on 17's and unlike most games; you do not need to have a two card amount of 9, 10 or 11 to be able to double down. 
Should you have identical pairs, such as Kings in your hand, you then have the choice to split three times for an amount of four hands.
Play European Blackjack at the following online casinos:
Simba Games | 21Prive | EU Casino | Springbok Casino

Other Blackjack Games to Play:
Atlantic City Blackjack | 21 Duel Blackjack | 21 Duel Blackjack 3 Hand | Blackjack 3 Hand | Blackjack 5 Hand | Blackjack Scratch Card | Pontoon