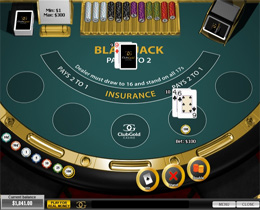 Blackjack 5 Hand is rather popular amongst gamblers and is played against the dealer the same as in the traditional one hand games.  However, this version allows gamblers to play 5 Hands simultaneously which boosts the players' chances of being dealt a winning hand.
The aim of the game is to obtain a total of 21 without going bust. If a players has two cards totalling 21 it is called Blackjack which may be obtained with an Ace plus a King, Queen or Jack.
Dealer and gamblers will be dealt one card each and then the gamblers will receive an extra card that they may look at. If no players have Blackjack, then the dealer will get his next card and check the results.  Once the players have been dealt their extra card or have Bust, then the dealer will get his extra card.
All cards will be checked and the one that is the closest to 21 will win the round.  The dealer may draw up to 16 but has to stand on 17.
Bets range from as little as 1c up to $100 with the maximum bet being $300.
Play Blackjack 5 Hand at the Following Online Casinos:
Other Blackjack Games to Play:
Atlantic City Blackjack | 21 Duel Blackjack | European Blackjack | 21 Duel Blackjack 3 Hand | 21 Duel Blackjack 3 Hand | Blackjack Scratch Card | Pontoon